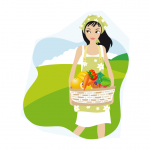 Daca iti place reteta prezentata da un like pe butonul din stanga
Maglavaisul portocalio-toxic care se vinde sub numele de "unt de arahide" n-a reusit niciodata sa ma convinga ca ar fi bun de ceva. Sare, resturi de alune si mult prea multe calorii, pentru a caror existenta pur si simplu nu gaseam nici o explicatie. Or fi americanii complet nebuni, ma intrebam?!
Dar, cum in timp ce eu imi puneam asemenea intrebari existentiale, Alex - mare fan - ma tot imboldea in supermarket sa cumparam un borcan, I decided to make my own!
Ridic mainile sus si ma declar invinsa... si pe deplin convinsa! Stiu ei americanii ce stiu - untul asta de arahide poate fi ceva extrem de delicios, si - in varianta home made - chiar foarte hranitor. E adevarat, calorii tot are cu caru' deci nu e indicat sa mananci un borcan odata, dar e plin de grasimi bune, nesaturate care ard colesterolul, de proteine si de tot felul de minerale. Perfect for a breakfast on the go, intins pe o felie de paine integrala!
Unde mai pui ca am facut si-o afacere buna: 1 borcan gata cumparat costa 8-9 lei, in timp ce eu am luat 300g de alune crude (nesarate!) cu 4,5 RON si din ele am umplut borcanul cu o bunatate de peanut butter!
Aliniaza urmatoarele:
- 300g arahide crude, nesarate
- 1-2 linguri de ulei de floarea-soarelui
- 2-3 linguri de apa
- un praf de sare de mare
Cum procedezi:
* Mixeaza alunele in robotul de bucatarie (la viteza maxima) pana rezulta o pasta nu foarte fina
* Adauga uleiul, sarea de mare si apa, lingura cu lingura, mixand in continuare, pana obtii consistena potrivita: tre' sa fie cremos si "tartinabil" ;)
=>
1 borcan de 400g
care rezista la frigider
2-3 saptamani