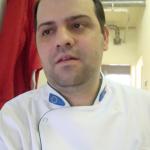 Daca iti place reteta prezentata da un like pe butonul din stanga
Romania isn't best known for its food but it will be....I know. There is an incredibly rich culinary tradition here, homegrown in Romania, born out of the necessities of life, brought in by the Ottomans, Germans, Russians, Serbians, Hungarians.... Add to that a generous climate, fertile soil and the Black See that provide fabulous ingredients in abundance and you are ready to feast. To understand Romania and to understand mămăliga, you have to understand traditional Romanian culture.Historically, Romanians ate this golden bread (mămăliga - made from cornmeal) as a replacement to bread. It is inexpensive, easy to do every day, in every season and could be found in every house.Mămăliga is similar to a porridge made out of wheat of cornmeal traditional for Romania. It is better known to the rest of the world in its Italian form named polenta.Traditionally, mămăliga is cooked by boiling water, salt and cornmeal in a special-shaped cast iron pot called ''ceaun'' or ''tuci''.Mămăliga is much thicker than the regular Italian polenta to the point that it can be cut in slices with a string, like bread.Sometimes, mămăliga can be much softer, almost to the consistency of porridge. Mămăliga is a fat-free, cholesterol-free, high-fiber food. It can be used as a healthy alternative to more refined carbohydrates such as white bread, white pasta or white rice.In Romania, mămăliga is used as a bread substitute and can be served all day:-with sour cream and jam for breakfast, -stuffed with cheese and served with pickles as a all day meal - used as the starchy base for meaty stews, grills, Sarmale recipe here….etc, at dinner. Today I will introduce you to mămăliga, not in a traditional way of preparation, to demonstrate how versatile and deeply satisfying this peasant dish can be.Parmesan and Rosemary Polenta with Wild Boar Stew
Mamaliga cu rosmarin si parmesan servita cu tocanita de porc mistret
Serves 6 to 8
Rosemary Polenta
Ingredients150 gr of polenta400 ml of chicken or vegetable stock400 ml of water100 gr of grated Parmesan cheesefresh rosemary, choppedolive oilsalt PreparationIn a cast iron pot ''ceaun'' or ''tuci',' or a pot, add the water and stock to boil.After water is boiling, reduce heat to the lowest possible setting.Add salt and rosemary. Gradually stir in polenta; cook, stirring the mixture constantly, for 3 to 5 minutes or until polenta thickens and pulls away from sides of pot.Stir in Parmesan and olive oil. Once it begins to stick to the side of your pot, before collapsing back into the mix, the mamaliga is done.To prepare stewIngredients: 5 tablespoons olive oil 2 large onion chopped1 kg boneless wild boar meat, cubed 1-2cm1 tbs white flour1/2 bottle of red wine 400 ml beef stock 400 gr canned chopped tomatoes3 bay leaves from real spice5 cloves garlic, crushed 1 dried chili peppers crushed from real spice 1 cinnamon stick from real spice250 gr carrots chopped250 gr celery sticks chopped100 gr dry prunes 6 sun-dried tomatoes fresh thyme choppedfresh rosemary, choppedsalt and black pepper to taste Directions: To prepare stew, in a large cast-iron pot, saute the onion in olive oil until translucent. Add and cook the meat over high heat, turning frequently, just until it's cooked on the outside. Add the flour and mix to incorporate. Add the wine and beef stock. Add the canned tomatoes and the bay leaves. Gradually add the garlic, dried chili, cinnamon stick, sun-dried tomatoes, carrots, celery, prunes, herbs, and salt and black pepper to taste. Simmer on low and stir occasionally for at least two hours or longer if possible. The stew is ready to eat when the meat has totally fallen apart and most of the liquid has been absorbed by the meat. Take out the cinnamon stick and bay leaves before serving.
Serve over the polenta or with pasta and top with grated cheese or parmesan bisquit.Accompany with a full bodied red wine, and enjoy with good company.
Here you can find mamaliga not in a traditional way of preparation.
With Tiger Prawns and avocado salsa.
''Mamaliga'' with scalops and salmon rulade.
''Mamaliga'' with cod wraped in parma ham and lobster bisque.
Black ''mamaliga '' with squid ink served with Tiger prawns
.
Red ''mamaliga'' with venison filet, goats cheese, red onions marmalade and thyme sauce.
Filet of lamb with feta and aubergines roulade served with goats milk ''mamaliga'' and olive puree.
''Mamaliga'' stufed with goats cheese and served with fresh tomato sauce and catalan herbs olive oil.
Enjoy!