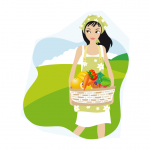 Daca iti place reteta prezentata da un like pe butonul din stanga
1.
Sandviciul vietnamez cu porc de la Toan's de pe Magheru, Bahn Mi pe numele lui e al naibii de bun si justifica pe deplin o plimbare prin zona in weekend! (mai ales daca o mai da soarele ever anu' asta). Recomand cu multa, multa caldura - e aromat, plin cu porc savuros, ridichi murate si coriandru, gata repejor, la un pret mai mult decat rezonabil (11 ron) si servit cu zambetul pe buze :)
nom-nom-YAY!
2.
La Mega Image au bagat o tona de condimente din gama lor proprie Delhaize siii... in sfarsit pot sa va indrept spre un loc la indemana cand va povestesc despre retete cu chimion, garam masala sau turmeric sau... cate si mai cate! Mergeti si explorati!
Yay Mega!
3.
Sunt o gazda impecabila - fapt confirmat din nou, de data asta de
the fruit of my loins, namely bebe F,
care se pare ca nu vrea sa paraseasca caldurica din burtica, asa ca se gandeste sa o mai arda pe-acolo inca ceva timp. Suntem la aproape 39 de saptamani si la limita rotunjimii (dupa umila mea parere) dar el nu se grabeste deloc. Bonus: mai pot sa dorm pana 11-12 inca cateva zile -
superYAY!